Walter Roscoe Flanagan
(27 Nov 1900 - Nov 1967)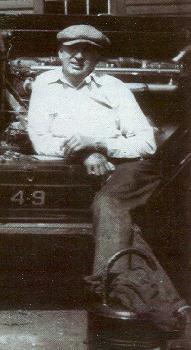 We know that Uncle Walt began working for the Knoxville Fire Department in 1924 and was dismissed on June 1932. On 2 February 1928, Walt was working at the Park City Station. A fire alarm went off and Fire Chief Ben Suddarth jumped into the chief's red Studebaker to respond to the alarm for a "$10 fire" at 1018 Chipman Street. Walt, who failed to swing onto the chemical truck, jumped into the car with Suddarth. The chief's car was traveling down Winona Street at a high rate of speed, when it met with Firetruck #6 from the Park City Station. City Fireman Fred. M. 'Jack' Sexton was killed and 6 firemen, including Walt, were injured. Walt was admitted to Fort Sanders Hospital with shock and injuries to his chest, back and hip. The newspaper report stated that Walt and Suddarth owed their life to the steel top of the roadster. They were taken from the car only by cutting the top off.