Thomas 'Tom' Guilford Flanagin
(Dec 1844 - Apr 1927)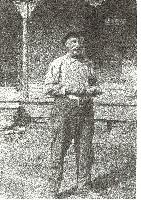 For a complete history of Thomas and his descendants I would like to direct the reader to the book Remnant Of A Family, began by Nell Sunderland Hendrix, and completed by her brother, Marshall 'Chub' Sunderland, after her untimely death in 1982. This book may be found at the Sevier County Library in the Genealogy Library, and at the Hoskins Library on the University of Tennessee campus in Knoxville.
Tom, like his brother Samuel in Blount County, had a chair shop (factory) where he and his workers manufactured rockers and straight backed, cane-bottom chairs which where hauled to Knoxville and Dandridge to sell. There was also a small general store attached to Tom's house. From page 32 of Remnant Of A Family: "Tom was tight with his money, he was a shrewd trader, honest in his transactions and was never known to work a crooked deal or cheat his workers or his neighbors."